218.MONSANTO
Interrupt Your Regularly Scheduled Programming
THEY ARE POISONING US.
PLEASE SEE HOW THEY ARE MANIPULATING OUR FOOD...
WATCH THESE VIDEOS AND LEARN WHAT YOU ARE PUTTING IN YOUR MOUTH AND INTO YOUR CHILDREN!
is a
U.S.
-based
multinational
agricultural biotechnology
corporation
. It is the world's leading producer of the
herbicide
glyphosate
, marketed as "
Roundup
". Monsanto is also the leading producer of
genetically engineered
(GE)
seed
; it provides the technology in 90% of the genetically engineered seeds used in the US market.
[2]
It is headquartered in
Creve Coeur, Missouri
.
[
3
]
Condensed history and evaluations of the many controversies surrounding The Monsanto Company. Monsanto is gaining too much power over the food supply, they are taking away rights of farmers and consumers, creating negative impacts on the environment and on human health. It is time we do something about it.

The clips and photos used in this video are the property of the makers, no copyright is intended. I recommend watching the documentaries and interviews in full for a more detailed understanding.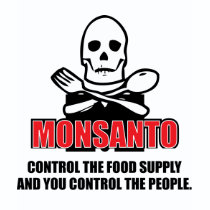 The World According to Monsanto is a 2008 documentary film directed by Marie-Monique Robin that was originally released in French as Le monde selon Monsanto. The film is based on her three-year investigation into Monsanto's practices worldwide.
The first thing you'll learn is that Monsanto is about more than GMO seed, as if that weren't enough. They're also the company that produced Agent Orange and is currently producing the bovine growth hormone used in US agriculture. After having seen Dirt! The Movie just a few days before this one, I was especially horrified with the details of Monsanto's products and practices. And speaking of Dirt!, you'll recognize Vandana Shiva from that documentary.
And it's amazing the influence Monsanto has with the US government, where Monsanto often got its way in the White House by exerting influence over policymakers via the "revolving door"

IT'S NOT  COINCIDENCE  YOUR VIEWING THIS SITE IF YOU DON'T KNOW THE KING OF KINGS AND SAVIOR (Jesus)
YAHUSHUA
CHANGE YOUR LIFE RIGHT NOW AND GO TO GOD'S OPEN ARMS!

SAY THIS PRAYER RIGHT NOW AND BE BORN AGAIN!
And get Baptize it will change your life!
Please tell others about this site thank you.