283.2012
Now that it is 2012  I'm going to hit the subject  of the great topic of this year  December 21, 2012 now if you're not familiar with the story  here it is.
The 2012 phenomenon comprises a range of eschatological beliefs according to which cataclysmic or transformative events will occur on December 21, 2012. the Mayans "predicted" the end of the world with one of their calendars. On this date, doomsayers assert that Earth will be ravaged by a smorgasbord of cataclysmic astronomical events --
Now I am going to break it down the satanic symbols on the Mayan calendar. as you will see this is all sun worship asking the Egyptians did and other cultures looking at the calendar itself it is a huge  sun  there is a face in the middle and the points are supposedly supposed to be the compass North,East,West and South were also put their for  rays  to the sun...Just looking at this and all the snake on this thing  you can tell it's not good  and it is representing evil!
Look at all of the snakes  on it's side in the middle and at the bottom!
At the top of it  you will see two winged disc that is a representation of Helios which is Lucifer it is also depicted in the Egyptian pyramids.

If you look closely it is a pyramid with an eye in the middle as we see the face with the tongue sticking out of it.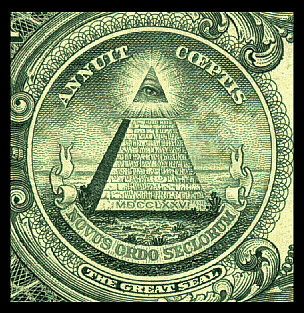 And if you look even closer it looks like  Baphomet the goat god aka Lucifer Satan the devil: what I really want the dark spirit still uses his same symbols!
Also if you look closely at the bottom you will see it looks like the female reprodive system is them telling us that they are giving birth to there dark agenda?
Now just to show you that this is all part of the Satanic agenda let's look at one of their movie posters entitled 2012
Just to  prove  that this is all part of the Satanic agenda just look at the 2012 movie poster And look where the man is pointing to the  illuminati pyramid with light shining through it and if you look at where his left foot at where there is the mountain peak you will see it again another pyramid with a light shining  on top of it again another reference to Lucifer! yes there is a third  pyramid  if you look  on his right side you will see a wave splash it makes a pyramid and if you look above it on the  Mountain  you will see a reptilian eye!
They always have their three pyramids  to show their alliances to their dark Masters!
My friends this is who is behind the 2012 scare tactics and fear mongering the enemy of fallen Angels and demons feed off that energy!
Reading the poster We warned you time for miracles!
First off this is a scare tactic..
Secondly it links up to how the Illuminati and secret societies work problem, reaction and solution!
In other words when there will be world calamities  that they will invoke as in so-called natural disasters, wars, terrorist attacks they will come in and say we warned you and we can fix the problem...
''WE CAN STOP ALL OF THIS WITH OUR NEW WOELD ORDER''
Do  not believe them my friends it is all part  of their ''SATANIC'' deception  to enslave us all!
So please do not believe the hype,lies and propaganda!
This is what the Bible saids about December 21 2012
Matthew 24:36
But of that day and hour knoweth no man, no, not the angels of heaven, but my Father only.

IT'S NOT  COINCIDENCE  YOUR VIEWING THIS SITE IF YOU DON'T KNOW THE KING OF KINGS AND SAVIOR (Jesus)
YAHUSHUA
CHANGE YOUR LIFE RIGHT NOW AND GO TO GOD'S OPEN ARMS!
SAY THIS PRAYER RIGHT NOW AND BE BORN AGAIN!
And get Baptize it will change your life!