When I first seen the head dress I thought it looked like a demon with horns!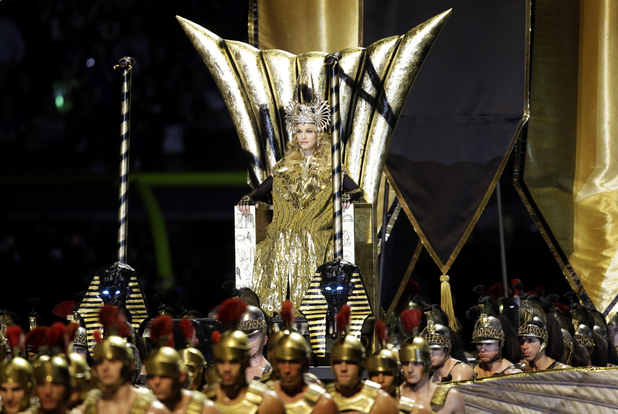 Also look at the pharaohs with the glowing eyes  once again they are showing you their satanic masters and the occult practices of  Babylonians, Seminarian and Egyptian mystery schools and these people have hijacked this world!
Is this a representation of her being a fallen Angel?
Right out of the gate she does a Nazi and  salute sign because these people are like Hitler and want a demonic New World order we are now in the fourth Reich!
If you don't believe me  keep on reading towards the end and I will show you their symbols  and their agenda!

Is she trying to act like this  Samaria goddess as well?
Inanna was the Queen of Beasts
The Lion was her sacred animal
Inanna could be wily and cunning. She was a powerful warrior, who drove a war chariot, drawn by lions. In the duality of our reality she is portrayed as gentle and loving, a source of beauty and grace, a source of inspiration. She endowed the people of Sumer with gifts that inspired and insured their growth as a people and a culture. She is also depicted as a passionate, sensuous lover in The Courtship of Inanna and Damuzi, which established the principle of Sacred Marriage. Indeed, one aspect of Inanna is as the Goddess of Love, and it is in this aspect that she embodies creativity, procreativity, passion, raw sexual energy and power.....Is  see trying to act like this goddess as well?
Yes  she even claims to be the great whore of Babylon  look at the photo below....


So here we have it folks the  self proclaimed and (Illuminati made) whore of Babylon!
She starts off withe her song Vogue here is the defenition in the
World English Dictionary
vogue

(vəʊɡ)

—

n

1.

the

popular

style

at

a

specified

time

(esp

in

the

phrase

in

vogue

)

2.

a

period

of

general

or

popular

usage

or

favour:



In other words follow what ''they''(Illuminati) make popular!!!!
!
Freeman said that Madonna's use of the VV and OX symbols represents her worship of the Fallen Angels using the Kabbalism code 66 meaning Qlippoth or the souls of those who died insane.
Walk like an Egyptian huh aka Illuminati yeah right!