358.COLORADO FIRE SPIRITS
On the weekend of June 23 2012 had massive fires

Waldo Canyon Fire near Colorado Springs, High Park Fire near Fort Collins, Flagstaff Fire near Boulder, Little Sand near Pagosa Springs, Treasure Fire near Leadville and the Weber Fire burning near Mancos r

ecord heat are blamed for the fire.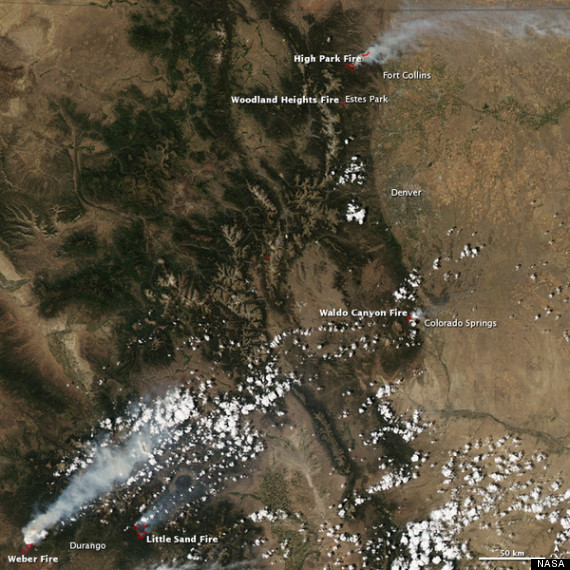 Caption:
An image of Colorado's wildfires taken by NASA's Aqua satellite on June 23, 2012. This could become the state's worst fire season.
WHEN I LOOKED AT THESE PICTURES OF THE FIRES IN COLORADO I SEEN THE EVIL OF FIRE SPIRTS.

What are fire spirits?


They are demonic spirits that embody fire and smoke.
These fire spirits where clearly seen on the satanic sacrifice done by the satanic Illuminati on

9/11 take a look at these picture and see these demonic fire spirit aka demons.
AND  THIS IS THE PIC THAT WOKE ME UP TO KNOWING 9/11 WAS DONE BY THE DARK SPIRITUAL FORCES OF THIS
UNIVERSE AND THE WAR AGAINST US AND GOD!
NOW LOOK AT THE NEW PICS JUST OUT FROM COLORADO THEY ARE VERY SIMULAR.
NONE OF THESE PICTURES WHERE DOCTORED OR PHOTOSHOPPED.
Look close and you will see demonic faces!
ALSO THE GOVERNMENT CONTROLS THE WEATHER THROUGH H.A.A.R.P ,CHEMTRAILS, CLOUD SEEDING AND OTHER TECHNOLOGY THEY LET THESE FIRE GET OUT OF CONTROL!
THINK ABOUT IT...
THESE PEOPLE THAT LET THIS HAPPEN ARE AS EVIL AS THE DEMONIC SPIRITS!
PEOPLE AND ANIMALS DIED IN THOSE FIRES!!!
THEY ARE LETTING THIS HAPPEN THEY COULD STOP IT!!!
EVIL!!
AS YOU SEE HERE FIRST HAND FROM TO PICTURES ABOVE THIS IS A DEMONIC SPIRIT NO DOUBT ABOUT IT!
THE WORLD GOVENMENTS HAVE MADE A PACK WITH THESE DEVIL AND DEMONS!
THE BIBLE IS A HUNDRED PERCENT RIGHT IN THIS VERESE!!!

For we wrestle not against flesh and blood, but against principalities, against powers, against the rulers of the darkness of this world, against spiritual wickedness in heavenly places.
GET SAVED BEFORE IT IS TOO LATE!
Exodus 14:14
The LORD shall fight for you, and ye shall hold your peace.

IT'S NOT  COINCIDENCE  YOUR VIEWING THIS SITE IF YOU DON'T KNOW THE KING OF KINGS AND SAVIOR (Jesus)
YAHUSHUA
CHANGE YOUR LIFE RIGHT NOW AND GO TO GOD'S OPEN ARMS!

SAY THIS PRAYER RIGHT NOW AND BE BORN AGAIN!
And get Baptize it will change your life!
Please tell others about this site thank you.