409.GOOGLE BUSTED
409.GOOGLE BUSTED
Revelation 13:16-18
21st Century King James Version (KJ21)
16 And he causeth all, both small and great, rich and poor, free and bond, to receive a mark in their right hand or in their foreheads,
17 that no man might buy or sell, save he that had the mark or the name of the beast or the number of his name.
18 Here is wisdom: Let him that hath understanding count the number of the beast, for it is the number of a man; and his number is six hundred threescore and six.

---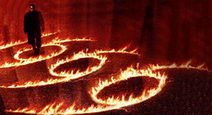 NOT MANY DON'T KNOW THAT THE NEW GOOGLE LOGO IS ACTUALLY 666 THE MARK OF THE BEAST IT IS HIDDEN IN MANY THINGS TO CONDITION OUR MIND TO ACCEPT IT!
I WILL PROVE THAT GOOGLE  HAS HDDEN  THE MARK OF THE BEAST IN MANY WAYS ON THIS PAGE!
AS YOU CAN SEE HERE CONNECT THE DOTS 666!
Here is where I break it down...

If you do not believe that Jesus Christ is Lord and Savior I would start the signs are literally everywhere of the enemies take over!
Exodus 14:14
The LORD shall fight for you, and ye shall hold your peace.

IT'S NOT  COINCIDENCE  YOUR VIEWING THIS SITE IF YOU DON'T KNOW THE KING OF KINGS AND SAVIOR (Jesus)
YAHUSHUA
CHANGE YOUR LIFE RIGHT NOW AND GO TO GOD'S OPEN ARMS!

SAY THIS PRAYER RIGHT NOW AND BE BORN AGAIN!
And get Baptize it will change your life!