511.NELSON MANDELA SHILL
511.NELSON MANDELA SHILL
Don't always believe what the media tells you ... anytime someone is held up to be a hero, there's usually some information they're not divulging. Mandela went back and forth between peace and violent confrontation, but he was in jail for being a TERRORIST. This guy is no saint, no hero, and certainly no reason to be flying flags (let alone American flags) at half mast. He used violence to achieve his ultimate end.
Do not be fooled by Nelson Mandela he was connected to the Jesuit Illuminati Knights of Malta which is one of them will Satanic occult secret societies trying to push for a New World Order.
The Jesuits are pure evil and they were linked to the Nazis so this is prove that Mandela was link to this monstrous evil!
AND IF YOU STILL DO NOT BELIEVE ME LOOK AT HIS FRIENDS YOU ARE A PART OF WHO YOU HANG OUT WITH!
NELSON MANDELA HIMSELF WAS A TERRORIST....
The Truth: South Africa's "Regeneration" Through Fiery Chaos
Winnie Mandela: "How should we deal with collaborators and traitors?"

Nelson Mandela: "We should cut off their noses!"

Winnie Mandela: "No, I have a better idea: we should throw tires filled with gasoline around their necks, light them on fire, and burn them alive."

Nelson Mandela: "That's a good idea!"
Necklacing
"Necklacing is the practice of summary execution and torture carried out by forcing a rubber tire, filled with petrol, around a victim's chest and arms, and setting it on fire. The victim may take up to 20 minutes to die, suffering severe burns in the process.
"The practice became a common method of lethal lynching among black South Africans during disturbances in South Africa in the 1980s and 1990s. The first recorded instance took place in Uitenhage on 23 March 1985 when black African National Congress (ANC) supporters killed a black councillor who was accused of being a collaborator.
Necklacing "sentences" were sometimes handed down against alleged criminals by "people's courts" established in black townships as a means of enforcing their own judicial system. Necklacing was also used by the black community to punish members of the black community who were perceived as collaborators with the apartheid government. These included black policemen, town councilors and others, as well as their relatives and associates. The practice was often carried out in the name of the ANC. Winnie Mandela, then-wife of the imprisoned Nelson Mandela and a senior member of the ANC, even made statements that endorsed its use. The ANC officially condemned the practice. The number of deaths per month in South Africa related to political unrest as a whole from 1992 through 1995 ranged from 54 to 605 and averaged 244. These figures areinclusive of massacres as well as deaths not attributed to necklacing.
"The first victim of necklacing, according to the South African Truth and Reconciliation Commission, was a young girl, Maki Skosana, in July 1985."
Source: Wikipedia: Necklacing – http://en.wikipedia.org/wiki/Necklaci
AND AS EVERYBODY KNOWS NELSON MANDELA WAS A COMMUNIST WHICH IS WHAT THE SATANIC NEW WORLD ORDER WANTS!
A ONE WORLD SYSTEM!
Winnie Mandela, Nelson Mandela, and Yossel Slovo at ANC rally in 1990
AND HE EVEN GOES SO FAR AS TO PUSH THE MARK OF THE BEAST 666!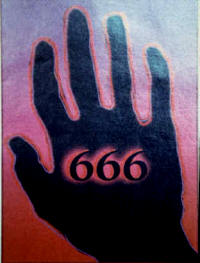 Revelation 13:16 - 13:18
Now viewing scripture range from the book of Revelation chapter 13:16 through chapter 13:18...
16 And he causeth all, both small and great, rich and poor, free and bond, to receive a mark in their right hand, or in their foreheads:
17 And that no man might buy or sell, save he that had the mark, or the name of the beast, or the number of his name.
18 Here is wisdom. Let him that hath understanding count the number of the beast: for it is the number of a man; and his number [is] Six hundred threescore [and] six.
GET SAVED BEFORE IT IS TOO LATE!
Exodus 14:14
The LORD shall fight for you, and ye shall hold your peace.

IT'S NOT  COINCIDENCE  YOUR VIEWING THIS SITE IF YOU DON'T KNOW THE KING OF KINGS AND SAVIOR (Jesus)
YAHUSHUA
CHANGE YOUR LIFE RIGHT NOW AND GO TO GOD'S OPEN ARMS!

SAY THIS PRAYER RIGHT NOW AND BE BORN AGAIN!
Andget Baptize it will change your life!